This is a question we are often asked.
Clients get in touch excited about the prospect of a wonderful new garden space. We have an exciting initial meeting about their garden design in Cotswold and what their garden could be. This is the bit where dreams of a changing lifestyle are created. We put together the proposal to transform these dreams into reality and the first major cost is the topographical survey. It feels so boring and an immediate non-interesting expense. "Do we really need a survey?" we often get asked?
"YES Absolutely!" is always our response. The topo (even surveyors shorten the name as it is a mouthful!) survey is a starting point for everything and an essential tool for us to start the garden design process. But why…………
What is a topographical survey?
It is a type of land survey that maps the contours of the ground and existing features on the surface of the ground. It is used to gather spatial information relating to the site and its natural and man-made land features.
A topographical survey can provide us with valuable information such as:
Area boundary lines
Buildings and structures
Existing garden features i.e., sheds
Overhead or underground services
Existing trees, bushes, and vegetation positions
Ground heights, contours, and surfaces
Drainage features
Water levels
North point
Here is a topographical survey example……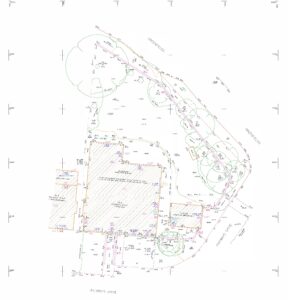 Why do you need a topographical survey?
This all helps us, as landscape garden designers in Cotswolds, understand the physical details of your property. To create a successful design, we need to make the most of the space available, create practical solutions to existing issues and problems, maximise surrounding views, and hide unattractive views/screen onlookers.
The design needs to look wonderful but also work within its proportions, we do not want a relaxing place where people have to move around every time one person needs to get up to use the facilities! Accurate land measurements will allow you to see how the existing site is arranged, including the height of items. This includes surrounding buildings and their windows, height of walls and fences (which is important information for us to consider when designing). A survey also includes the size of the outdoor space, drainage, siting and design of new features, and the amount of effort needed for earthworks.
Topographic surveys are also used for other reasons, including:
Planning and designing new construction projects
Identifying potential drainage issues
Identifying potential environmental hazards
Determining the best location for new structures
Identifying areas that may be prone to flooding or erosion
Having a survey certified to you as the owner means you can use your survey to settle any property border questions. A survey also protects the integrity of your property deed. There have been questions from neighbors over the heights of new structures and these can easily be dealt with when the old levels are unquestionable. We can ensure we comply with planning regulations with this accurate and reliable information.
It is a valuable investment, and the costs are recouped but why…
It can also help reduce the risk of costly mistakes caused by unforeseen issues. A topographical survey provides a complete picture of the land you are developing and gives you visibility over the whole plot of land, which will in turn help you figure out which design and construction methods are most suitable for application. This can save in time money and reduction of waste removal.
What are the costs?
Typically, a UK land surveying company will charge between £300 and £1,000 per day, as well as £300 to £600 for topographical drawings. However, the cost may vary depending on the location, size of the land being surveyed and the company you choose to work with.
This money can easily be saved with the information given. Not only does the survey make our jobs as garden designers easier and quicker from concept to the quoting stage; it allows for accurate information to ensure we are conforming with planning regulations and practical solutions to manhole covers, drainage, onlooking properties as well as creating a beautiful garden. It can also help our clients to understand the new layout of the garden over the existing. Here is an example of a garden design in the Cotswolds with the existing survey under the new concept design.