Recently a captivating trend of outdoor kitchen spaces has vastly surged. Gardens by Keltie and Clark adore incorporating the creation of outdoor kitchen designs within a garden design.  It is a fabulous way to get the most out of your garden. What is there not to appreciate about dining al fresco? It is soothing, comforting and satisfying. You feel at one with nature whilst enjoying the fresh air and the surroundings of your garden; blissful! Also, it switches up normal routines- taking mealtimes outdoors is exciting and exhilarating. Why not enrich your whole outdoor lifestyle experience and prepare food outdoors too?
After the pandemic, we received increased enquiries regarding the outdoor kitchen design and construction of outdoor kitchens. We have built several outdoor kitchen areas, ranging in style, size, and material. The variation of appliances and facilities to include is endless, you could include heat appliances, a grill, running water, prep areas as well as a wood fired pizza oven! Personally we love the Big Green Egg which will transform all cooking, as well as any Beefeater Outdoor Kitchen appliances and equipment- which includes so much variety!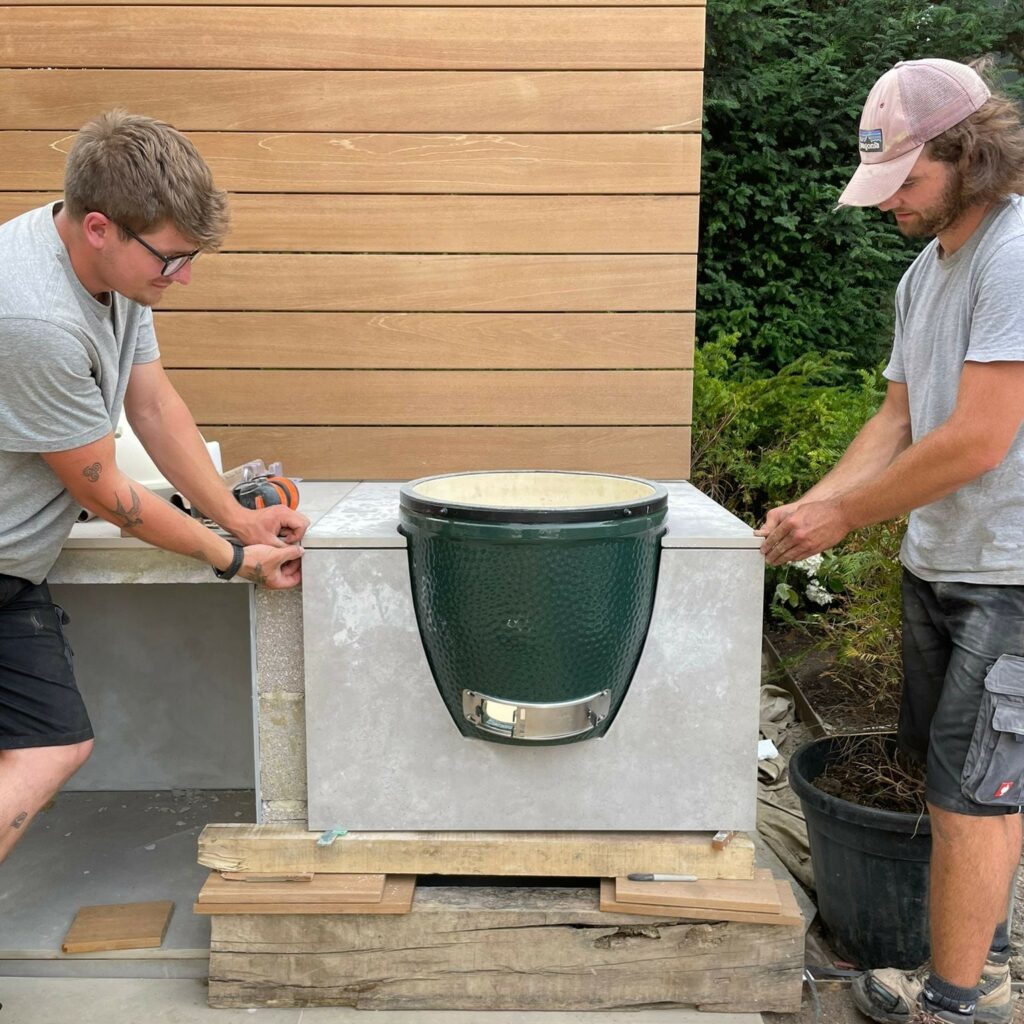 From fridges to barbecues, the appliances can be endlessly diverse or selective depending on your needs.
Typically, outdoor cooking is diminished to barbecues and picnics. However, there is no limit to what you can cook in an outdoor kitchen, the possibilities are infinite. You could make all the delicious meals catering to all members of the family and friends. Salads, grilled meat and fish, breakfast maybe even the Sunday roast. You can enhance your cooking experience by preparing, making, and eating all food outdoors. Extending the parameters of outdoor living.
Outdoor cooking spaces are equipped, effective and sophisticated, with appliances impeccably integrated for a seamless design. Most outdoor kitchens that Gardens by Keltie and Clark have produced, are unique and bespoke, corresponding to individual clients' needs and desires. All are spacious and functional within a well-defined space.
Above and below are some examples of outdoor kitchens that Gardens by Keltie & Clark have designed and built.
This outdoor kitchen combines rustic, warm tones and is very family-orientated. The timber frame and concrete worktops are stylish yet earthly.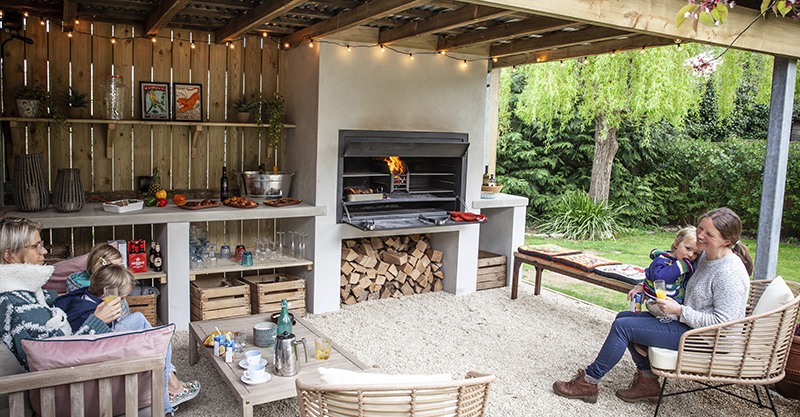 Pure elegance with granite worktops and exterior fitting with porcelain paving slabs. Suitable for all occasions with entertaining, quiet dining or family meals.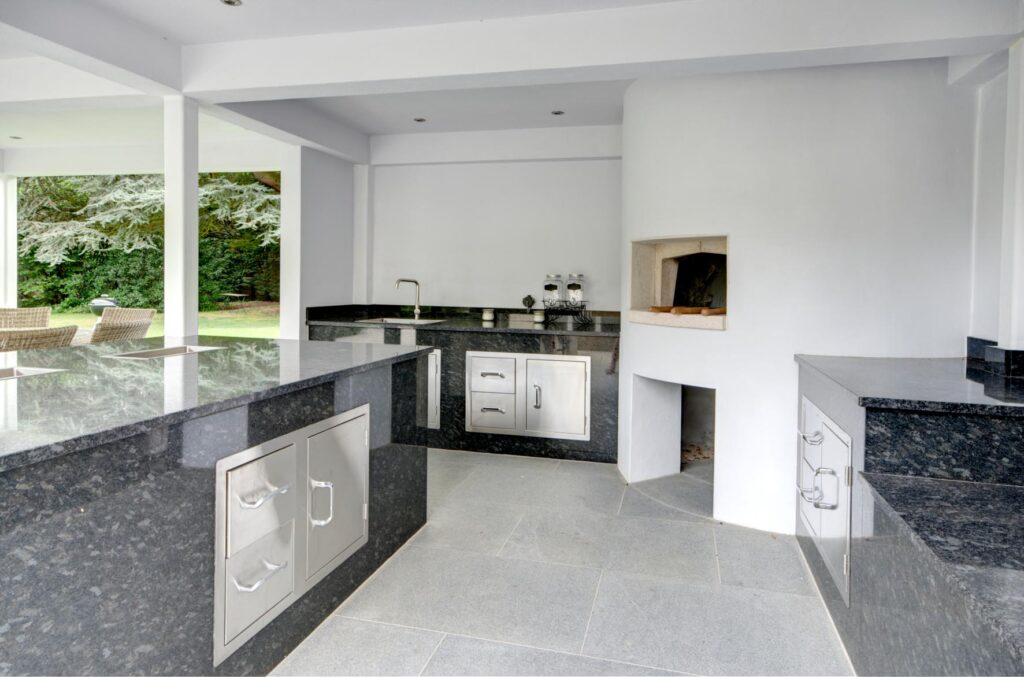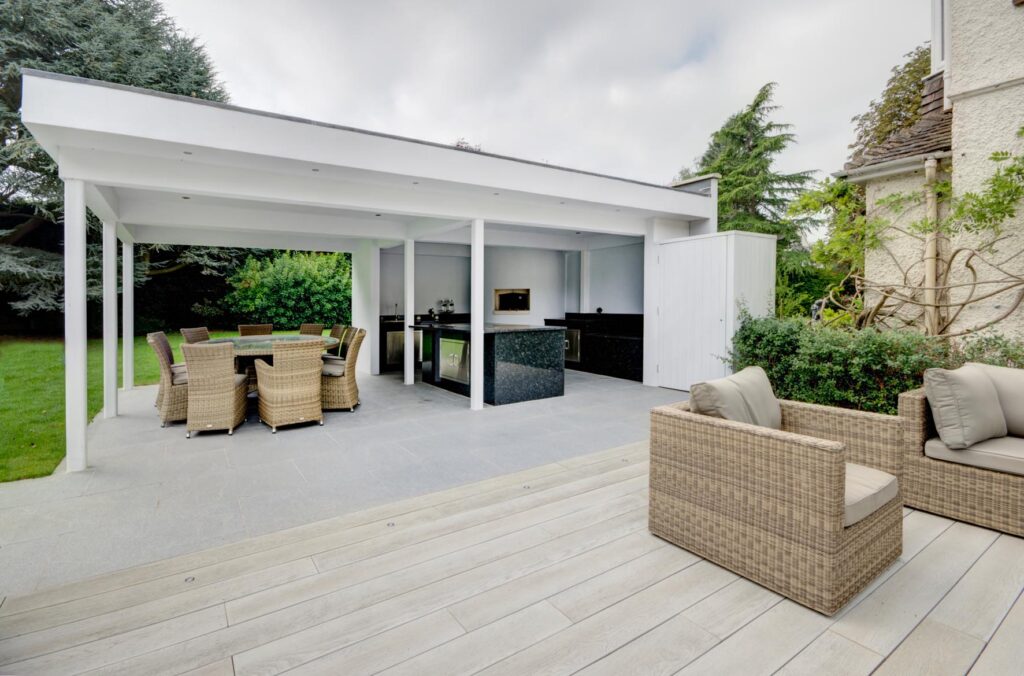 Outdoor living in style with hot tub, plunge pool and vegetable garden in a convert barn landscape. This takes harvesting food and cooking to another level.