Durable, Luxuriously Bespoke Planters in Numerous Textures and Shapes
Pots come in all forms, shapes, materials, colours, finishes and sizes; their uses and potential are abundantly extensive. Gardens by Keltie & Clark adore utilising artisan, bespoke pots within our garden designs in Cheltenham, ranging from natural materials to contemporary finishes and styles.
From organic, traditional shapes to contemporary, innovative forms; or large-scale pots to smaller modest planters. Artisan pots have numerous formats including urns, bowls, pots, and planters; and different shapes- rectangular, circular, hexagonal, tall, long, and small. Pots are uniquely stylised and personalised to suit your garden!
Artisan Pots Usages'
Generally, bespoke pots have multiple usages. Oversized, large feature pots (which we personally love) can be left empty to create a bold statement. Most of these are beautifully unique and distinctive. Their dramatic appearance speaks for itself, adding structure and exhilarating form with height. Significantly, these pots create a thrilling focal point in your garden. Feature pots can be placed as an individual singular pot or evenly placed as multiples.
Statement Focal Pieces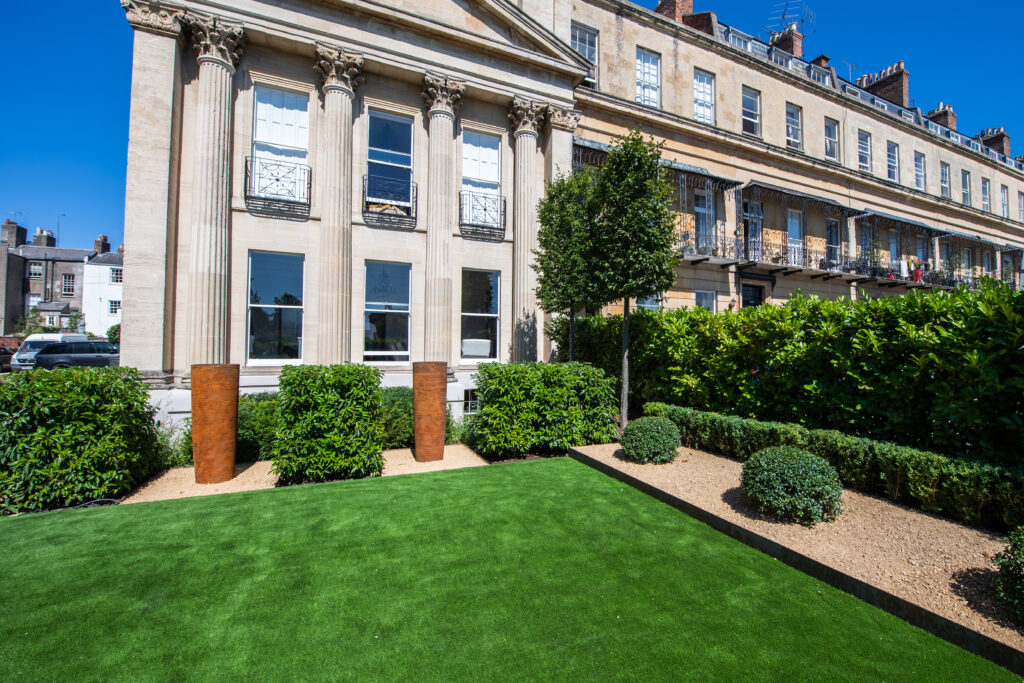 This garden design included multiple tall, large, exquisite feature artisan pots, all bronze with a heavy drag textured finish. The bronze sets off the luscious green tones of the evergreen foliage.
Contrastingly, another idea consists of filling pots with soft planting. Whether this be large structural grasses or brightly coloured foliage to create a focal point, planting can soften the edges of pots. Pots can overfill with variety and substance, creating an eye-catching focus. Planting can be tall and structural, or colourful with texture, therefore creating a garden full of character.
We worked with our client to create the bespoke Corten steel rectangular planters, below. The client struggled to source a planter with the correct dimensions for these olive trees, so we had these Corten steel planters uniquely designed and crafted.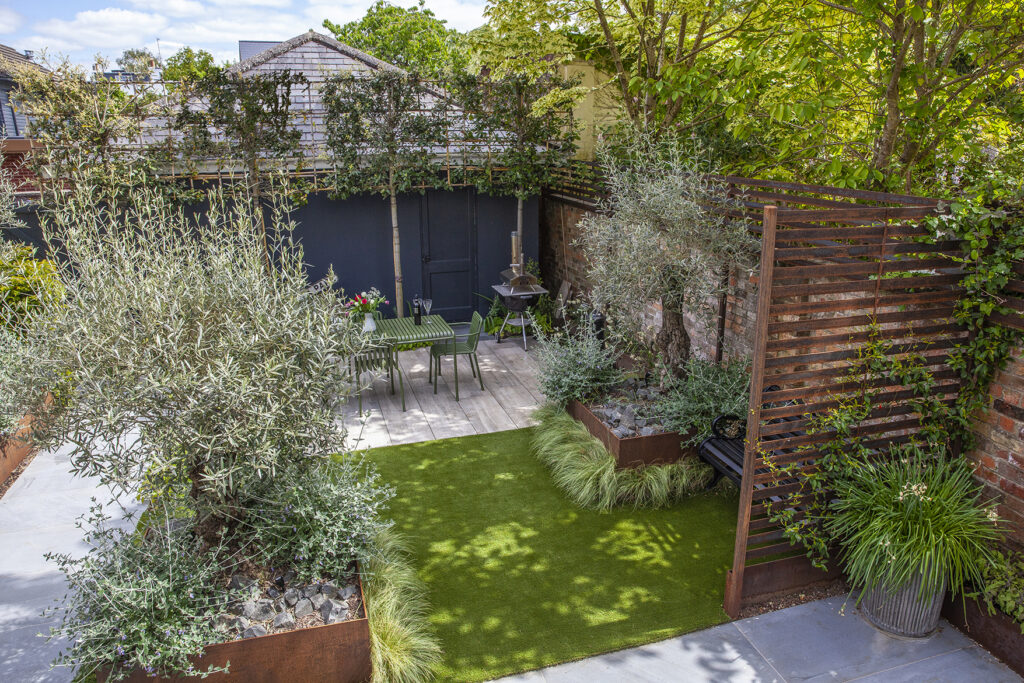 As Garden Designers in Cotswold, some of the gardens that we have worked on, we have used salvaged and unique pots as water features. This creates an exquisitely beautiful central piece for the water feature.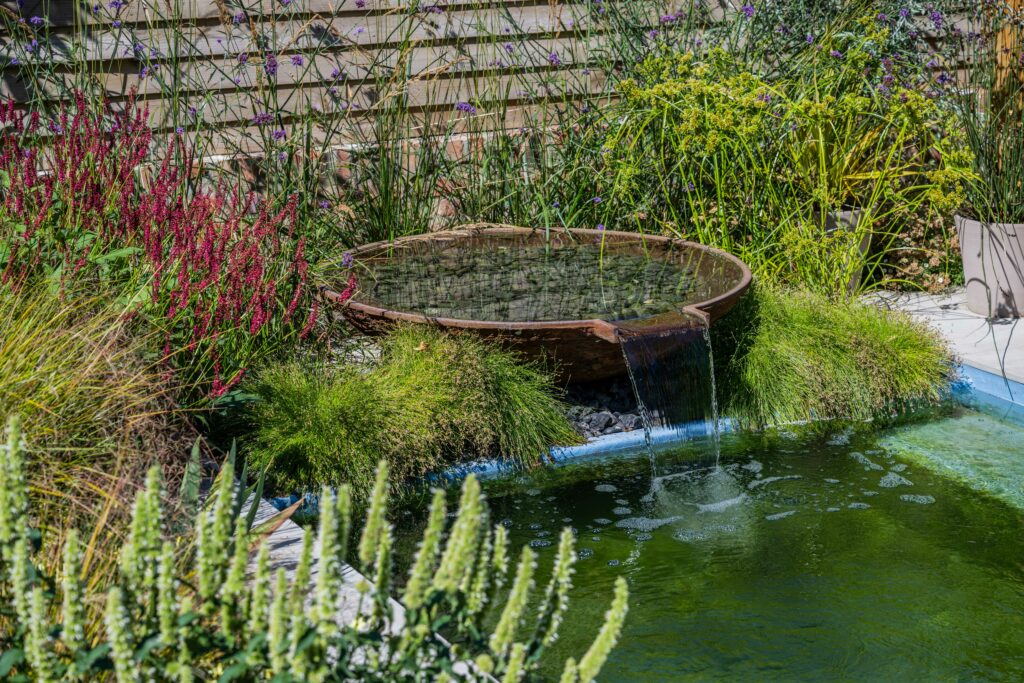 Positioning Artisan Pots and Planters
Positioning pots is unbelievably important, with the potential to make or break a garden. A pots' position within a garden, ultimately influences the pot's style, material, and colour. Firstly, it is important to choose the area where to place your pots and the quantity.
Neglected Garden Corners
You could singularly place a pot within a neglected corner, or use as a focal point. Markedly, you could choose an exceptionally unique and beautiful pot for this area.
Framing your Garden
On the other hand, artisan pots can be used to frame an entrance, or similarly a doorway, pathway, or gateway if you desire more focus on this area. The pot could create a structured, formal entrance filled with grandeur and grace; therefore, you would desire a formal, elegantly tall or large pot. Whereas the pot could welcome guests into an area which is modest and humble in style, therefore the pot could be rustic and natural in form.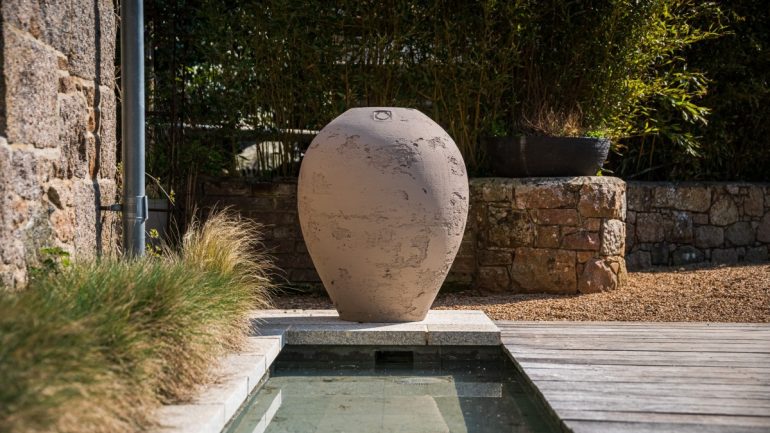 Simplicity in this colour, planting and material palette is key in establishing the modest serenity and natural atmosphere.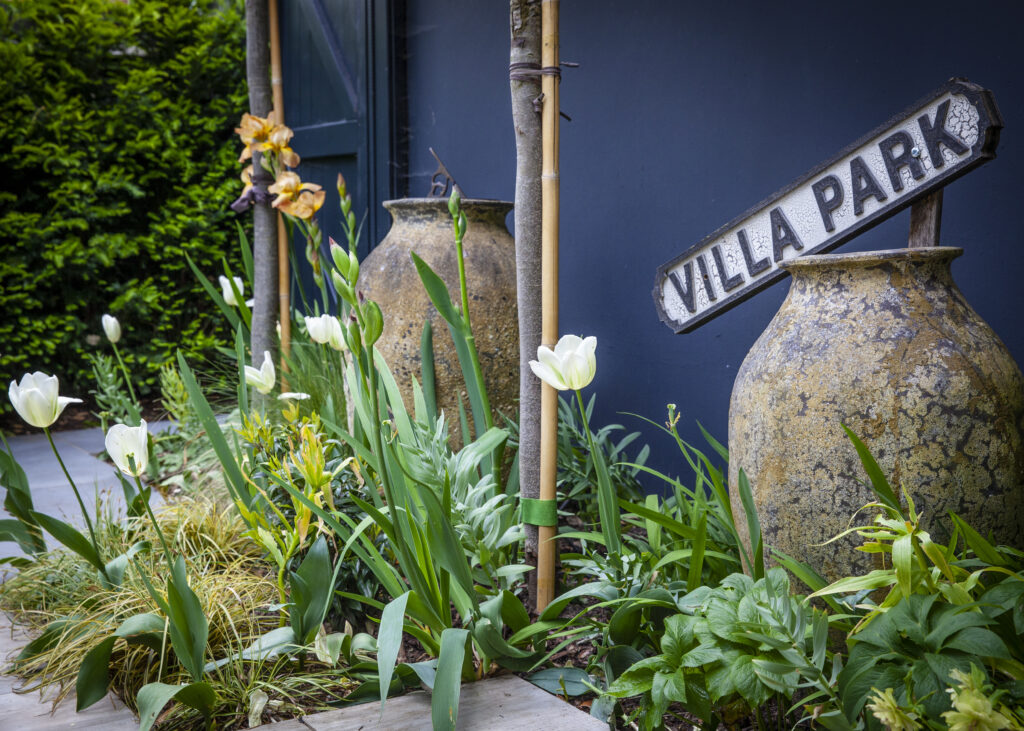 Depending on the area in which the pots sit within your garden, the pots could be different colours, sizes and forms depending on the desired appearance and aesthetic of the space they are in.
Clustered Pots
Further, pots can cluster in groups, with contrasting proportions, materials, or finishes. This can enhance immediate force and impact.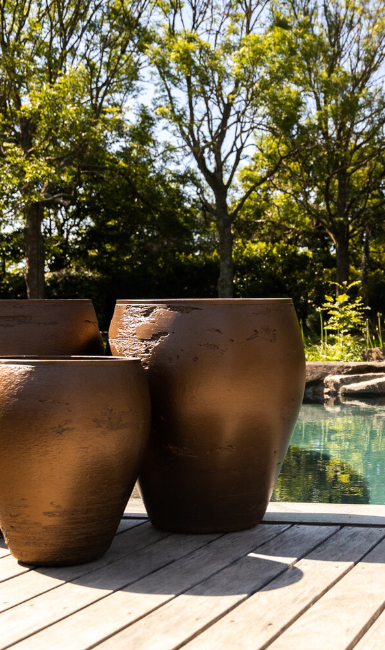 Moreover, if your garden needs changing up, move pots to an alternative corner or area of your garden. Pots are completely adaptable and flexible depending on the atmosphere and feel you wish for. If you have an individual pot, position this in another area. If you own multiple pots, switch these around to create a distinct, separate look to the one you had initially- practically giving your garden a new lease for life.
Atmosphere through Colour
Many businesses specialising in selling pots, such as Torc Pots and  Adezz, offer a vast colour scheme- even offering coating in extensive RAL colours. Colours influence the mood and atmosphere of your garden; different colours of artisan pots can be used in different areas, creating zones. For a peaceful tranquillity, plan to use more muted, subtle and earthy tones. Whereas if you wish to create a vibrant and cheerful atmosphere, brighter, bolder, and warmer hues.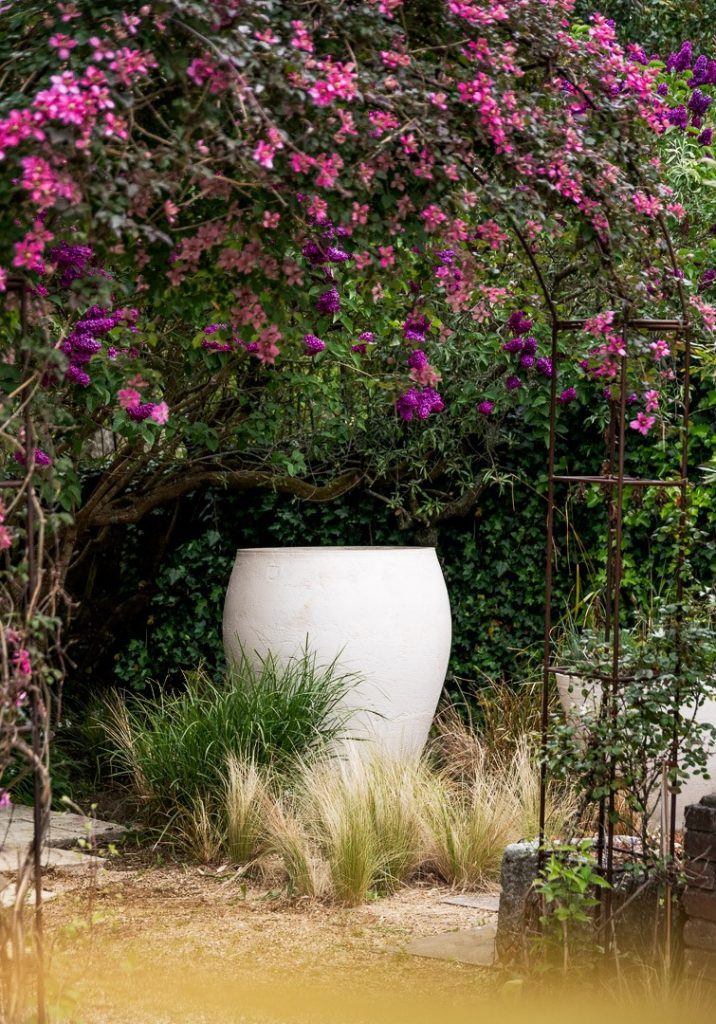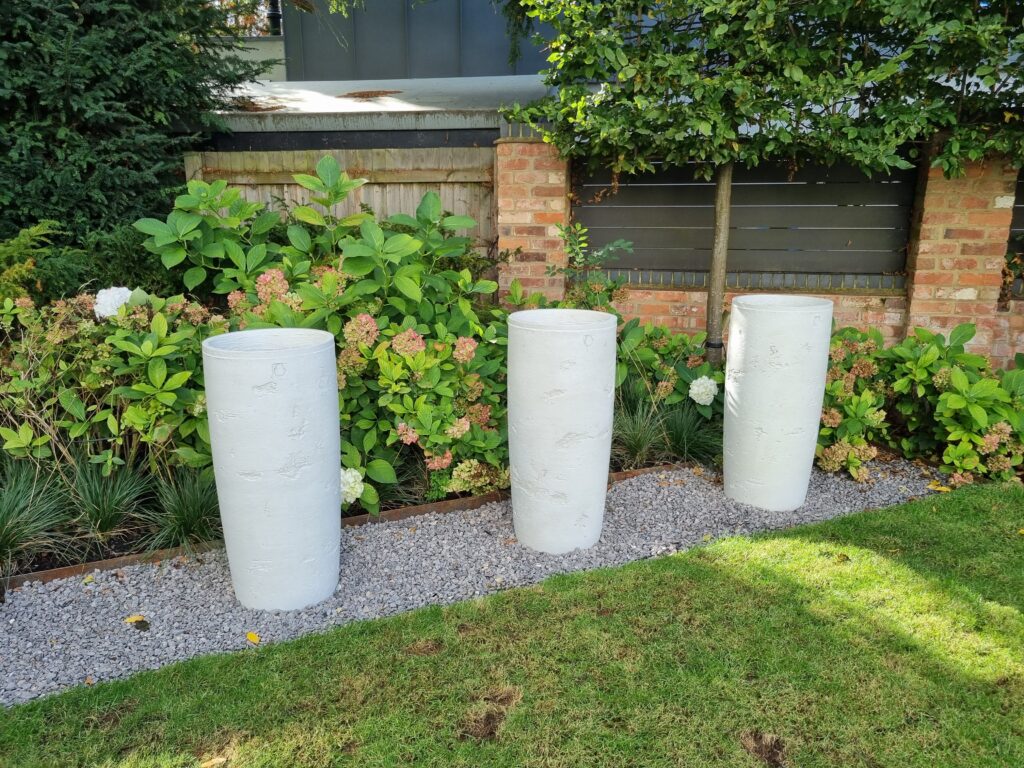 Pots Textures and Finishes
An assortment of textures enhance the finish and extravagance of pots. This determines the markings and textural finish on the pot's exterior. Further, textures bring depth and dimension providing distinctive appeal. Chiefly, textures include brushed, dragged, feathered and smooth; all light, medium or heavy in intensity.
Artisan pots transform an element or area of your garden, even if you are reluctant to redesign your whole garden. An individual distinct and bespoke artisan pot can bring your garden to life. Or a pot can influence the entire re- design of your garden! They are delightfully stunning to look at and have many uses. If you're looking to do some landscape gardening in Cheltenham, would love to work with you in selecting an artisan pot(s) for your desired garden ambiance and aesthetic…!