What is a Moon Garden?
The documented origins of the Moon Garden design date back as far as 1530 when the Mughal Emperor Babur created a 'moonlight garden' to be enjoyed after the heat of the Indian sun had abated. It contained night blooming plants, white paths and octagonal reflecting pools.
The halcyon days of 'White Gardens' began in the 20th century, with influential gardeners such as Gertrude Jekyll. She recognised the importance of colour in garden design. Probably the most famous garden of this genre is the one at Sissinghurst in Kent, created by Vita Sackville-West and her husband Sir Harold Nicholson. It started life in 1931 as a rose garden design and developed over the years, with the addition of white Gladioli, Anemones, Iris and Dahlias amongst others.

Since then, an increasing number of people have been fascinated by the idea of creating a 'Moon Garden'. They appear to create a sense of calm, a place to unwind, as we seek to use our garden spaces as a refuge from our hectic lives.
To create a successful 'Moon Garden' there are a few considerations to bear in mind. Even in the diminishing twilight, you want to create as much visual interest as possible, so use plants that are variegated or have strong architectural outlines, different shapes, and heights. Ensure that you invite other sensory organs into play by laying pathways of crushed shells or light-coloured gravel, introduce the sound of running water and experiment with fragrance. Use plants such as Phlox, Honeysuckle, Lilies and Jasmine, which are all renowned for their night scent. The feel of plants is important too, so think about brushing past soft grasses, or touching the soft velvety silver leafed plants such as Lamb's Ears or Salvia argentea.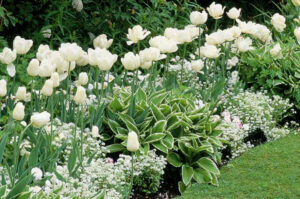 If you have the opportunity to instate a Moon Garden from scratch, consider the shape of the garden design. It could be playful and representative of the lunar phases, such as a circular or crescent shaped. How much of your garden space do you want to dedicate to a simple white, silver or pale colour palette? It could just be a single border, or a small, dedicated seating area, screened by a backdrop of darker hedging, which helps as a foil for the white flowered plants. Usually, best placed near a garden building or patio, to draw you outside at dusk. Another aspect to consider is the level of light pollution or the proximity of any tall structures that may interfere with the amount of moonlight falling onto the plants.
The magic of a Moon Garden design is best enjoyed physically and not via images on the internet as they don't capture the ethereal beauty or sense of tranquillity that you feel when immersed in the space. And with so many plants and design styles to choose from the possibilities of creating a unique and wondrous evening garden are as limitless as the stars.
Whether one envisions a Dream, Dusk, Evening, Twilight, or Moon garden, Keltie and Clark, as leading landscape gardeners in Cotswold, craft each haven meticulously. These sanctuaries encourage contemplation and relaxation, inviting individuals to restore their spirits and find solace amidst the soothing embrace of nature